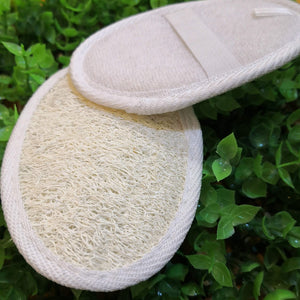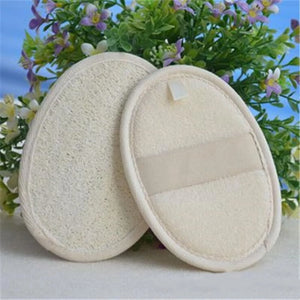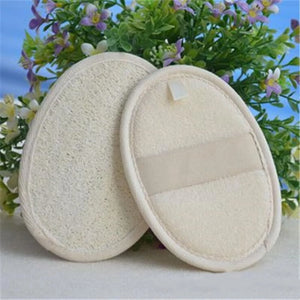 2 Pack Loofah Exfoliating Pads
ADVANTAGES:

Made of natural loofah and terry cloth, non-toxic and soft, providing you with better skin-friendly experience.
Loofah sponge works well in deep-cleansing, exfoliating and massaging your skin.
The loofah also bends in the middle which is nice as you wash more curved areas of your body.
Material: natural loofah sponge and terry cloth
Size (approx.): 12 x 8 cm/ 4.7 x 3.1 inch
MORE ABOUT THIS PRODUCT
Loofah has a good function of descaling and is suitable for kitchen use.

Gentle deep cleaning: with natural and porous vegetable fiber, the luffa pads can gently and deeply cleanse your skin, removing cuticles or blackheads and leaving your skin invigorated and more receptive to lotions and moisturizers
Safe material: loofah sponge scrubber brush is made of loofah sponge and terry cloth materials which are skin-friendly, natural, anti-sensitive and properly sized to fit a variety of hands, which is ideal for men and women

Easy to use: before use, soak the body loofah pads in warm water to make it soft and hang it to dry after each use, body loofah sponge scrubber glove has an elastic hand strap and terry cloth backing design to ensure the loofah pad stays in your hand for all over body scrubbing.

Dual function: the exfoliating loofah sponge pad is in a nice oval shape for comfortable use when bathing, the reverse side has soft terry cloth fabric to remove body oils, dirt and debris; Loofah also has a good function of descaling, which helps you to clean bathtub and pot